http://www.manasamitra.com/our-work/the-dewsbury-not-the-fringe-festival/pete-rosser/
This link leads to some music with a video of photos of Dewsbury, made for Manasamitra, an arts organisation in Dewsbury – four piano tracks overdubbed, videos sometimes synchronised. I made two trips to Dewsbury to take photos, one on a miserable rainy afternoon, one on a bright sunny winter's morning, snow on the ground – contrasting atmospheres, although people mostly seem to register the gloom.
And here's the score: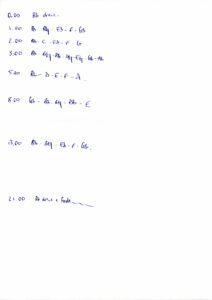 Now everything should be apparent.