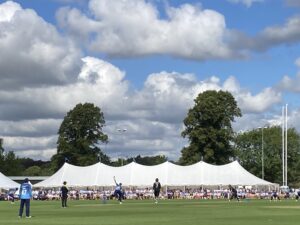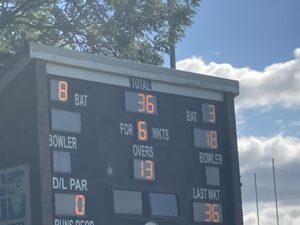 I spent a couple of days last week sampling the delights of 50-over one-day cricket at York Cricket Club – Yorkshire v Surrey on Tuesday, a thrilling one-wicket victory (for Yorks), possibly the tensest game I've ever been to, and then Yorkshire v Hampshire on Thursday, where the Yorkshire batters capitulated in a seriously anticlimactic fashion.
What are the pleasures of such days, I wonder? I enjoy going to watch County Championship matches at Headingley for an occasional rainy day among the sparse 200 or so other masochists, self-sufficient with their flasks and lunchboxes and rucksacks, scorecards and newspapers ( I stand out only by my eccentric choice of The Guardian). I listen to them talking across each other, always knowledgable and never admitting to error in any detail. At York last week there was a full house of maybe 3000 people, including children, families and drinkers plus a distressing corporate tent of delusional confident men in pastel shirts.
The primary pleasure is not just in watching the high level displacement activity of the actual cricket (featuring last week a number of 17-year-olds), but in the interactions of the people around me. A father and son combination, where the son (in his 30s) pontificated throughout the day in a string of cliches and inanities beloved of any local radio commentator, always at a level just below what his father could actually hear, necessitating ceaseless repetition of his already repetitive phrases. And a couple of incomers (like me) – academics who had been at Oxford together, dragging out bottomless depths of detail in their discussions of pointless articles, drinking in Oxford, comedy podcasts, the political careers of their Oxford contemporaries, friends with benefits and the awfulness of other people's children. One was clearly the alpha, I assumed a professor in his 60s – when I turned to look, they were both in their 30s. A neighbour (with a Yorkshire accent) attempted to instigate a discussion of a recent book by Yuval Noah Harari – "Oh I don't think I've come across that one" said mr alpha don, and dismissed him. All morbidly fascinating.
There was a minute's silence before Thursday's match in tribute to Michael Parkinson, who had justified his unreconstructed sexism by claiming it wasn't sexism, it was "just Yorkshire". His similarly unreconstructed friend Geoffrey Boycott had been at the ground on Tuesday. I realise that they were absent from the workshops in new masculinity I attended in Sheffield in the 1980s.
After a somewhat morose weekend, I was wondering whether, rather than feeling sorry for myself and blaming my shortcomings and disappointments purely on my own inadequacies, there might be a case for thinking about the contrast between those aspirations of the 1970s and 1980s, fuelled by social security, student grants, the Enterprise Allowance Scheme and a sense of socialist possibilities, and the actual historical unfolding of the past 40 years – the resurgence of a mean neo-capitalism, the denial of any value apart from individual financial benefit, the revival of sexism and racism as banter/free speech, and the crushing crushing of the (imperfect) Corbynite alternative. Perhaps I should investigate whether my 1970s Wombourne and 1980s Sheffield contemporaries feel similarly worn down by disenchantment and the closing down of progressive opportunities. I was reading some late lectures by Mark Fisher on Postcapitalism, and he mentions an article on "Resisting Left Melancholia" from 1999 by Wendy Brown, and ensuing debates. So at least I'm not alone. I shall read that and consider further.